Student Debates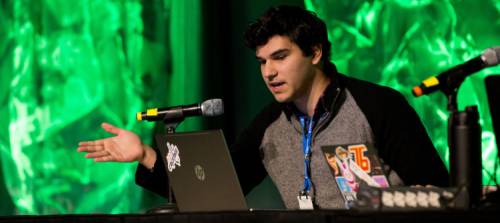 View the 2022 Student Debate Guidelines
The ESA Student Debates are lively, cross-examination-style debates held annually during ESA's Annual Meeting. The Debates are an important educational, as well as entertaining, component of the ESA Meeting.
The Debates generally include three subtopics under a broader main topic selected by the Student Affairs Committee (SAC) and feature the best of ESA's student membership. The SAC Chair will introduce the program after which the debates begin. Teams are independently judged with the winning team decided by a majority vote. The winners and runners-up are recognized at the ESA Student Awards Session where the winners are presented with a plaque for the team and certificates for all participating members of both teams.
The Best Debate Team Award will be awarded to the best student debate team out of all the teams participating at the National Student Debates. The winning team will receive $500 check, and trophy with their university name engraved on it. The SAC Chair, who organizes the debates, selects the judging panel (which includes students, post docs, and faculty members) that will determine the winning team.
All students taking part in the debates are "invited" speakers through university-sponsored teams. Each team is comprised of three to five members. All debate teams are required to have a formal faculty advisor.
All participants in the debates are winners as this is the only program at the ESA Annual Meeting that can directly culminate in an article in ESA's peer-reviewed, open-access Journal of Insect Science. This article is published at no cost to the student authors.
2022 Debates - Entomology Beyond Research and Education - Congratulations to all of this years winners! 
Topic 1 Winner: University of Florida, Purdue, Michigan State University
Topic 2 Winner: Washington State University
Overall Runner-Up - Washington State University
Overall Winner:  University of Florida, Purdue, Michigan State University 
 
View previous Debate winners.
View previous Student Debates articles.
View the author guidelines for Student Debates articles in the Journal of Insect Science.
How do I submit to participate in the Student Debate?
What documents are required to submit?
The following information is needed at the time of submission:
1. A team roster composed of three to five debate members specifying the captain of the team,
2. The name and email address of your faculty advisor
3. Any topic preferences from the official list (1st and 2nd choice)
4. Completed release form from all team members. This form can be found at the end of the debate instructions.
5. Note if the team is willing to allow an interested ESC or ESBC student to join their team.
Please note that:
priority may be given to ESA student debates teams that are willing to allow an interested ESC or ESBC student to join their team.

the committee reserves the right to assign the topics to each team if there are any conflicts.