Image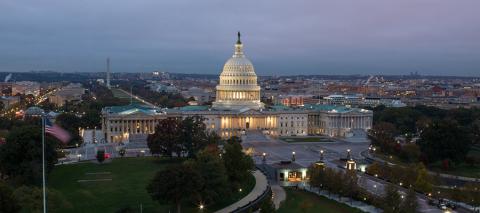 Studies have shown that, by far, the No. 1 influence on Capitol Hill is legislators hearing directly and personally from their constituents.
ESA's Science Policy Program issues periodic Action Alerts to channel the influence of entomologists like you. We need you to make your voice heard among legislators and policymakers.
Be an advocate for entomology—participate in open Action Alerts posted below, or sign up to receive notifications when new Action Alerts are issued.
Current Action Alerts
Jump to:
Help Pass the PREVENT Pandemics Act!
Entomologists, we need your help to urge Senators to pass the Prepare for and Respond to Existing Viruses, Emerging New Threats, and Pandemics Act (PREVENT Pandemics Act). This package will make the United States better prepared for future disease outbreaks.
In addition to broad public health provisions, the bill would better equip our country against vector-borne diseases by supporting biosurveillance, genome sequencing, epidemic forecasting, loan forgiveness for public health and vector management professionals, emergency communications, a One Health Framework, and other ways to incentivize new talent in public health. To contact your Senator, complete the form below or open the form in a new window.
Tell Congress About the Threat of Invasive Species
Members of Congress get re-elected for solving problems, not preventing them—which makes bringing attention to invasive species a challenge. Entomologists like you can help by informing legislators about the insects and arthropods that pose a threat to their states and why.
Please take a few minutes to send a message about invasive species to your members of Congress to tell them why they need to support programs for early detection and rapid response. Complete the form below or open the form in a new window.
Encourage Congress to Help Save Coffee and Promote IPM
Coffee fuels a lot of scientific research, but it is threatened by new and emerging diseases, and funding is lacking to help farmers and researchers rapidly respond.
The bipartisan bill H.R.5421, Coffee Plant Health Initiative Amendments Act expands the Coffee Plant Health Initiative, which currently addresses only the coffee berry borer. H.R.5421 and its Senate counterpart, S.2884, broaden the scope to address all coffee plant-health challenges, which will help respond to emerging threats and promote integrated pest management.
Please join us in encouraging your members of Congress to support this bill. Complete the form below or open the form in a new window.
Sign Up for ESA Advocacy Alerts
Be an advocate for entomology! Sign up now to receive ESA science policy Action Alerts.
More ESA Science Policy News and Updates
See the ESA Science Policy News newsletter archive.
(U.S. Capitol Building photo by Architect of the Capitol)