Image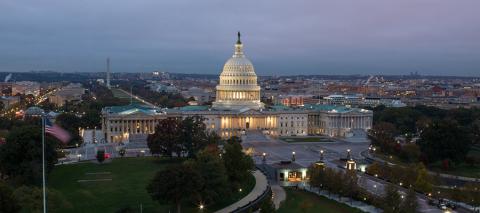 Studies have shown that, by far, the No. 1 influence on Capitol Hill is legislators hearing directly and personally from their constituents.
ESA's Science Policy Program issues periodic Action Alerts to channel the influence of entomologists like you. We need you to make your voice heard among legislators and policymakers.
Be an advocate for entomology—participate in open Action Alerts posted below, or sign up to receive notifications when new Action Alerts are issued.
Current Action Alerts
Tell Congress to Invest in the NSF
In 2022, Congress passed the bipartisan CHIPS and Science Act, which, among many actions, reauthorized the National Science Foundation (NSF) and authorized robust growth in funding to increase American competitiveness and workforce development. However, since then, Congress has dramatically underfunded the programs in CHIPS and Science Act, to the detriment of our future science, technology, engineering, and mathematics (STEM) workforce.
Please take a few minutes to encourage your lawmakers in Congress to fulfill the commitment they made to investing in the future American STEM workforce for the sake of domestic competitiveness and security. Complete the form below or open the form in a new window.
Advocate for Investment in Agricultural Research
Innovation in agricultural research has never been more urgent due to climate change, invasive species, and global conflict. Please take a few minutes to urge Congress them to prioritize robust investments in food and agriculture research, facilities, extension, and education in the next Farm Bill.
Additionally, U.S. Department of Agriculture (USDA) appropriations remain to be resolved for fiscal year 2024. The House and Senate proposed slight cuts to the USDA extramural research budget, but a discrepancy between the House and Senate numbers for the bill covering USDA must be resolved. Please join ESA in explaining to your lawmakers in Congress the importance of investing in agricultural research. Complete the form below or open the form in a new window.
Urge Support for Vector Management
When Congress returns from recess, ensuring that the Strengthening Mosquito Abatement for Safety and Health Act (SMASH) is reauthorized is essential to supporting vector management programs funded at the state and local levels. SMASH is currently proposed to be reauthorized in both the Senate and House versions of the Pandemic and All-Hazards Preparedness Act (PAHPA), but ensuring that it stays in that bill when the two versions are negotiated is critical. Additionally, congressional funding for all programs remains to be negotiated, and while vector programs have mostly been proposed to see level funding, the House appropriations bill proposes deep cuts across the board, including to the Centers for Disease Control and Prevention. Supporting the CDC is essential to supporting vector management.
Please take a moment to contact your members of Congress to explain the most pressing vector-borne disease challenges in your state and the work you are doing, whether through vector management, research, or public outreach. Complete the form below or open the form in a new window.
Advocate for Insect Conservation
The bipartisan Recovering America's Wildlife Act (RAWA) would create a dedicated federal fund for proactive conservation efforts led by states, territories, and tribal nations to address our nation's looming wildlife crisis. State fish and wildlife agencies have identified 12,000 species nationwide in need of proactive conservation action. For many states, nearly half of these identified animals are invertebrates. RAWA would create funding to assess and conserve insect species through research and monitoring in addition to critical efforts like collection digitization and support. It would also provide funding to address the impacts of invasive species on priority native species and habitats.
Please contact your legislators to urge their support for insect conservation and the Recovering America's Wildlife Act. Complete the form below or open the form in a new window.
Tell Congress About the Threat of Invasive Species
Members of Congress get re-elected for solving problems, not preventing them—which makes bringing attention to invasive species a challenge. Entomologists like you can help by informing legislators about the insects and arthropods that pose a threat to their states and why.
Please take a few minutes to send a message about invasive species to your members of Congress to tell them why they need to support programs for early detection and rapid response. Complete the form below or open the form in a new window.
Sign Up for ESA Advocacy Alerts
Be an advocate for entomology! Sign up now to receive ESA science policy Action Alerts.
More ESA Science Policy News and Updates
See the ESA Science Policy News newsletter archive.
(U.S. Capitol Building photo by Architect of the Capitol)