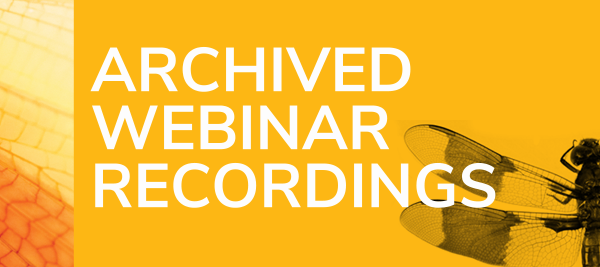 As an ESA member, you have free, any-time access to all ESA webinar archives to help you excel and grow in your field. Explore the categories of webinars below by clicking any category title to see the full list of archives. Then click on any webinar title to access the webinar video. 
Not an ESA member? Join today for full webinar access.
Want to register for an upcoming webinar? Click here.
Entomology Advocacy Week 2020-2022
Learning and Educational Webinars
Presentation Tips & Tricks for ESA's Annual Meeting
Communicating Your Science
Funding/Grant Writing
Join NSF Program Officers to learn about new and ongoing NSF funding opportunities of relevance to entomologists at all career stages. This session covered how NSF funds research, the grant proposal process, and funding opportunities through Biology core programs and current special solicitations. Overviews of Research Experiences for Undergraduates (REU) opportunities, the Graduate Research Fellowship Program (GRFP), Postdoctoral Research Fellowships in Biology (PRFB), the Faculty Early Career Development Program (CAREER), and the Mid-Career Advancement (MCA) program will be provided.
Learn the difference between internal and external funding streams, three effective habits of successful investigators, specific proposal writing skills and strategies, and more. Dr. Robin G. Walker, head of the Grad Student Progress System at the University of Missouri, presented this webinar and offered an insider's look at the proposal development, writing, and evaluation process.
Insect Photography
Looking to up your insect photography game? Join us for a 90 minute webinar with advice and tips for mastering the art of insect macrophotography. Insect photography experts will share their know-how on equipment, technique, and composition to help you get better insect shots—whether for your own use or for contribution to an ESA publication.
Alex Wild, a renowned insect photographer, discusses how anyone can utilize any camera (even an iPhone!) to produce great insect photos in this webinar. He offers five simple tips to improve your insect photographs, discussing topics ranging from camera lighting and positioning to dealing with often-uncooperative subjects.
Job Search and Preparation
Job Application and Interview
Statistics
Dr. Drew Tyre, a wildlife population ecologist at the University of Nebraska, discusses and demonstrates how entomologists and other scientists can use R and RStudio as an end-to-end solution for data management, visualization, and analysis. He focuses on the tools that enable the paradigm of "reproducible research" because, as Dr. Tyre says, "Your most important collaborator is yourself in 6 months, and your past self doesn't answer emails!"