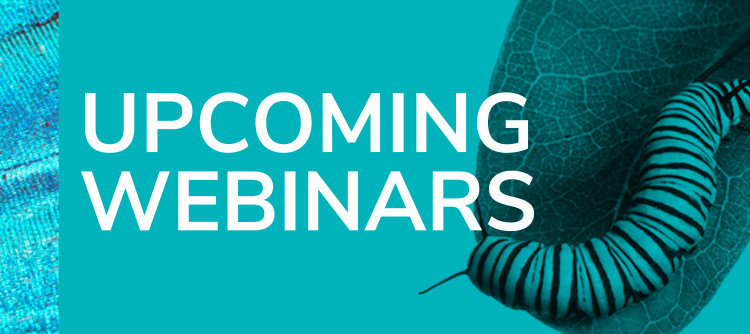 Hear from innovative thought leaders in the field of entomology. ESA hosts several webinars a year featuring career development best practices, how-to guides, and more. Registration is free for ESA's hour-long webinars and archives of each presentation are available for ESA members only. Join ESA today!
Have a proposal for an ESA webinar? New Webinar Submission Form
**Please note that ESA has block-out dates every Friday, and all ESA Branch meeting dates (March 9-12, 17-20, 24-27, April 8-10, 14-17, 21-24), June 24-26, October 10-November 25, December 23-January 2, 2025, and all ESA observed holidays.**
Date & Registration Link

Presenter(s) & Description

Monday, December 11

2:00 pm - 3:30 pm ET

ECP Career Track Webinar: Non-Profit/NGO

A webinar track for ESA ECP careers in non-profit/non-government organizations (NGO) webinar featuring Dr. Melinda Rostal (EcoHealth Alliance), Grace Kunkel (Project Apis mellifera), and Dr. Andrew Golnar (Science Philanthropy Alliance)

Moderator: Pierre Lau

Panelists: Grace Kunkel, Mindy Rostal, Andrew Golnar

Grace Kunkel is the Communications Manager at Project Apis m. (PAm).  PAm is an organization that funds honey bee research and Grace's primary role is to share scientific findings with beekeepers. Grace received a Masters Degree from the University of Maryland and she has supported several bee health projects including the APHIS National Honey Bee Survey and the Bee Informed Partnership. Prior to joining PAm, Grace worked for Land O Lakes/Purina studying honey bee nutrition, and a Contract Research Organization (CRO) conducting pollinator field studies involving pesticides.    

Dr. Mindy Rostal is a Principal Scientist for Vector-Borne Diseases at EcoHealth Alliance. Trained as a veterinary epidemiologist, Dr. Rostal works closely and  with medical entomologists, vector ecologists and other vector-borne disease expert. With a primary focus on Rift Valley fever virus and Crimean-Congo hemorrhagic virus, Dr. Rostal leads One Health research to understand transmission dynamics in animal hosts, people and vectors and how these interact with the environment.    

Dr. Andrew Golnar is a disease ecologist with a background in entomology and genetic bio-control. Throughout his training he studied a variety of blood-parasites, biting insects, birds, and mammals to better understand how pathogens persist and amplify in different ecological communities using a mix of genetics, mathematical modeling and experimental infection trials. Prior to joining the Science Philanthropy Alliance, where he works to advance philanthropic support for the basic sciences, Andrew was an APHIS Science Fellow at the USDA's National Wildlife Research Center.

Wednesday, April 3

12:00 pm - 1:00 pm ET

Valuing Entomology: Enhancing Pay Transparency and Equity

ESA is hosting Valuing Entomology: Enhancing Pay Transparency and Equity to support entomologists as they negotiate compensation packages and seek to increase pay equity for women and entomologists of color. In a panel moderated by Laura Lavine, Washington State University Department of Entomology Chair, Drs. Neeru Gupta, and Christiane Spitzmueller will discuss their research and experience as it relates to pay equity and Nicole Succoop will discuss the tool ESA employs to increase compensation information to benefit all entomologists.

Moderator: Laura Lavine, PHD

Panelists: Neeru Gupta, PHD, Christiane Spitzmueller, PHD, Nicole Succop

Dr. Laura Lavine is Chair of Washington State University's Entomology Department. In addition to her administrative duties, Dr. Lavine's research focuses on the development and evolution of adaptive phenotypic plasticity in insects. Dr. Lavine is also Chair of ESA's DEI Committee.

Dr. Neeru Gupta joined the UNB faculty in November 2016. She holds the position of Professor in the Department of Sociology. She was recognized by UNB as a 2021-2023 University Research Scholar. Dr. Gupta's research interests prioritize the use of population-based survey and administrative data from official sources, given the evidence that such sources are more often found to be useful to public policy makers. Dr. Gupta co-authored, Looking beyond parity: Gender wage gaps and the leadership labyrinth in the Canadian healthcare management workforce. Healthcare Management Forum, 36(1), 49-54.

Dr. Christiane Spitzmueller (Ph.D., Bowling Green State University, 2003) is Vice Provost for Academic Affairs and Strategy at the University of California Merced. An experienced academic administrator, she served as the Managing Director for the University of Houston's NSF-funded Center for ADVANCING Faculty Success, reporting directly to the University of Houston's Provost and President from 2017-2019. She conducts research on workforce diversity and Occupational Health Psychology. Dr. Spitzmueller serves on national committees dedicated to advancing diversity and inclusion in STEM and academic settings, and has focused on creating policy and data-driven solutions to promote inclusive excellence. Dr. Spitzmueller is a recipient of NIH's inaugural 2021 HeroX award for advancing gender equity in academic biomedical science disciplines.

Nicole Succop is an account manager with Dynamic Benchmarking and brings more than 15 years of hospitality management in relation to the association realm. Nicole supports ESA in its efforts to bring more increase salary information for entomologists.
**Please note that all the webinars are for everyone! Each webinar will be captioned. If you require another access service to fully participate or have any questions about accessibility, please contact Danielle Tempesta at dtempesta@entsoc.org. To ensure the best experience, please try to contact us at your earliest convenience.**