This plenary session will provide diverse and international Indigenous perspectives relevant to modern scientific inquiry and will include an open reading by poet and evolutionary biologist Brandon Kilbourne.
Michael Blackstock will present "Blue Ecology: climate change from an Indigenous water perspective". Michael is an Independent Indigenous Scholar from the Gitxsan Nation who will share Elder's teachings on water, and how that knowledge can provide a fresh perspective on climate change.
Tara McAllister will present "Decolonising science: the challenges ahead" Tara is an Indigenous scientist from Aotearoa New Zealand and will share her research and perspective on diversity, equity and inclusion in science.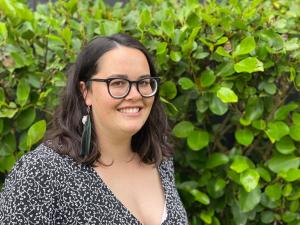 Tara McAllister
Ministry of Business, Innovation and Employment Science Whitinga Fellow
Centre for Science and Society
Victoria University of Wellington
New Zealand
Dr. Tara McAllister is a Māori scientist, interdisciplinary scholar, and mother belonging to the iwi (tribes) of Te Aitanga ā Māhaki and Ngāti Porou from Aotearoa, New Zealand, with expertise spanning from freshwater ecology to racism in the tertiary sector. Her research has sought to address the underrepresentation of Indigenous scholars in academia and has resulted in changes to policy and practise within the tertiary sector in New Zealand. Her current research explores understanding the experiences of Māori and Pacific postgraduate science students and brings attention to all the ways in which universities continue to marginalise Indigenous people and their knowledge systems.
McAllister earned a B.S. in ecology and biodiversity and marine biology from the Victoria University of Wellington and a postgraduate diploma in ecology and Ph.D. in water resource management from the University of Canterbury.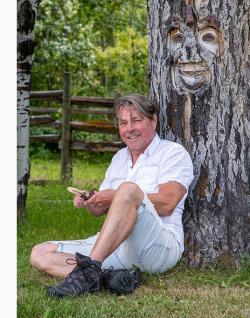 Michael Blackstock
Artist, Gitxsan Nation
Canada
During times of crisis, a few leaders always step into the spotlight with a new vision bridging conflicting world-views. Michael Blackstock is one of these visionaries. Michael is an artist, poet and Indigenous scholar.
As an Independent Indigenous Scholar and founder of the Blue Ecology™ theory, he offers a unique First Nations perspective on the climate crisis, inserting water into the difficult debates about carbon emissions. He has published over two dozen peer reviewed papers, bridging Western Science and centuries old Indigenous ways of honouring nature. His ability to mediate grew out of a uniquely diverse background as a writer, a thought leader, and registered Forester. For the past 18 years, Blackstock has held senior positions in the BC Public Service. Currently, he is the Senior Negotiator and Manager of Indigenous Employment and Training at BC Hydro.
Blackstock combines university education with positions at international bodies and an artistic First Nations heritage. Holding a Master of Art degree in First Nations Studies from the University of Northern British Columbia, 1997, he is also a chartered mediator with the ADR Institute of Canada (Alternative Dispute Resolution), and served as a member of the UNESCO-IHP (Intergovernmental Hydrological Programme) Expert Advisory Group on Water and Cultural Diversity for four years. In addition, Blackstock helped draft a water policy paper for the United Nations.
Of Gitxsan/European heritage, he is a member of the House of Geel, Fireweed Clan, where he is known as Ama Goodim Gyet. Blue Ecology™ theory benefited greatly when, in 2000, Blackstock interviewed the Elder, Millie Michell, shortly before she died. Passing the torch to him, she asked what he would do with her worries about water. His uncle, Walter Harris, mentored him as a northwest coast carver, and he has produced over a dozen limited edition northwest coast art prints. As the resident artist at Echo Valley Ranch and Spa and curating an art project on water, he is an inspiration to youth artists around the world.
Among his awards is the Queen's Golden Jubilee Medal and the Bill Reid Scholarship.
With his Water First framework, Michael is building bridges of intercultural understanding that enable a new vision of sustainable survival.
 
Brandon Kilbourne
Brandon Kilbourne i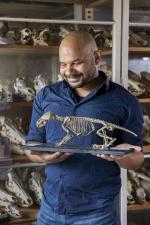 s a Pushcart-nominated poet and evolutionary biologist living in Berlin, Germany. His research focuses on the morphological evolution of the mammalian locomotor system and adaptations for locomotion. His poetry has appeared or is forthcoming in Poet Lore, Ecotone, Tahoma Literary Review, Obsidian, Artemis, West Trade Review, Santa Fe Literary Review, and elsewhere, with his work being translated into Estonian in Sirp. Currently, he is based at the Museum für Naturkunde Berlin.