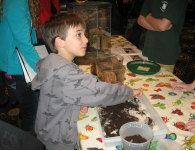 It's a Bug's World is a public outreach program hosted by the Entomological Society of America, Eastern Branch, in conjunction with its annual meeting. Exhibits and programming feature insect-related programs and institutions in the vicinity of the annual meeting's host city. There are two main goals of this program:
1) increase public awareness of the importance of insects and
2) show kids some of the interesting and varied career options available to people who study entomology.
We strive to make the program educational, interactive, and fun. The program is free of charge and open to the public, and exhibitors are not charged for table space.