ESA has negotiated discounted hotel rates for 2022 Joint Annual Meeting attendees. You must make your hotel reservation through Orchid Events. Hotel reservations are taken on a first-come, first-served, space available basis. Submit your request as soon as possible for the best opportunity of receiving your hotel choice. Reserve your room now.
Room rates quoted are in Canadian dollars and the hotels will bill in Canadian dollars. Use the calculator to determine the current exchange rate, which is constantly changing.  

DEADLINE
All reservations must be received by October 14, 2022, to guarantee availability and conference rates. After this date, reservations will be made based on availability and hotels may charge higher rates.  
Reserving within the official ESA housing reservation system is what enables us to secure better rates for our attendees, as well as to contract desirable space and dates for the future of the ESA. The negotiated discounted rate at our host hotels ranges from $172-$237 CAD ($136-$188 USD) per night single/double + tax and offers you the best access to the meeting and downtown Vancouver, you can't beat it!
Thank you for booking within the official hotel block. ESA appreciates your support and understanding of this important issue. Below are the hotels that ESA will be using. 

For questions or special requests, please contact Orchid Events at 1- 800-218-8608 or e-mail to help@orchid.events. Special requests are not guaranteed. Hotels will assign specific room types upon check-in, based on availability.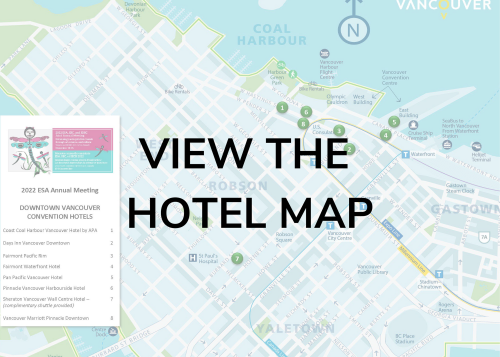 IMPORTANT HOUSING NOTICE
Orchid Events is the ONLY official housing company who may contact you and imply or indicate an affiliation with ESA and JAM 2022. Booking through Orchid Events, ensures you will be working with a reputable company, that your credit card information is secure, and that you will benefit from all services provided to conference attendees at the official hotels.
If you are approached by any company other than Orchid Events regarding JAM 2022 housing, please be aware that they have no relationship with ESA. Reservations made through any agency other than Orchid Events will be at your own risk.
Companies that contact attendees and exhibitors with fraudulent offerings of hotel rooms at significant discounts are commonly referred to as "housing pirates" or "housing poachers". These companies often misrepresent themselves by illegally using our logo. Lured by highly attractive rates, exhibitors and attendees fall prey to these imposters losing significant deposits, discovering hidden costs, credit cards charged in full at the time of reservation, or not providing the hotel reservations promised.
If you are contacted by anyone other than Orchid Events, please get as much information as you can, then contact Orchid Events at help@orchid.events or call toll-free 1-800-217-0002.
Why book your hotel room in the Official Hotel Block?
Lower Rates! Based on a guaranteed percentage of attendees staying in official conference hotels, ESA is able to negotiate with the hotels to provide discounted rates from their normal charges.
Closest hotels to the convention center.
Earn Hotel Loyalty rewards points when booking in the Official Hotel Block.
Immediate email acknowledgement of your hotel assignment.
Complimentary Wi-Fi access in your hotel guest room. While some hotel brands already include Wi-Fi as part of the room rate, other hotels charge as much as $12.95 per day.
Reliable customer service available to assist with your reservation needs.
Protection in the event the hotel has oversold guest rooms.
Network easily with other conference attendees staying in the Official Hotel Block.
And much more!
Support ESA by staying at the official conference hotels!
Unfilled rooms can cost the association thousands of dollars which can apply pressure to increase the
conference registration fees to offset these costs.
The number of booked rooms attributed to ESA is shared when contracting future venues. The more rooms booked in the Official Hotel Block, the better leverage we have for lower room rates and fewer contracted penalties in the future.
Our room block history impacts the amount of meeting space a city or venue is willing to hold as well as the cost. An excellent pick-up history results in better leverage when negotiating with convention centers.
We know there are often attractive alternative hotels or reward programs that provide incentives. Please think twice before booking "outside the block" and we will continue to negotiate the best convention centers and the best hotels at the best rates for future ESA meetings. You can help us.