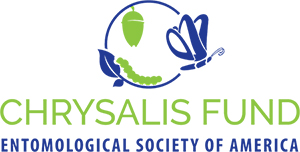 In 2019, the Entomological Society of America launched the Chrysalis Fund, inheriting the educational grants program started by the Entomological Foundation in 2018.
Below, find information about past Chrysalis Fund grant winners, as well as winners of the the 2018 Entomological Foundation Grants.
2022 Grants
The 2022 grants from the Chrysalis Fund were announced in September 2022. They include:
Exceptional grants ($2,500+):
Puerto Rico, Science, Technology, and Research Trust & Vector Control Unit (San Juan, PR) - $2,500 was awarded to promote citizen science through monitoring of the Aedes aegypti by high school students.

University of Georgia (Athens, GA) - $2,500 was awarded to create a 4-H Pollinator Ambassador program trains up to 30 high school youth ambassadors, equipping them with research-based knowledge to take to their communities on the importance of pollinators.

Sheridan Elementary (Ethiopia) - $2,500 was awarded to help students create a bilingual, easy reader, nonfiction book about Painted Lady butterflies for Ethiopian children to practice reading and improve understanding of this insect.
Large grants ($1,000 - $2,499):
Richmond Middle School (Richmond Hill, GA) - $2,100 was awarded to fund an 18-week build out of a butterfly habitat and study of its life cycle - including anatomy, migration, tracking, feeding habits, and relationships with humans.

Entomology Club at Clemson University (Clemson, SC) - $2,000 was awarded to provide a Cornell drawer's worth of South Carolina insects and associated, grade-specific lesson planning material to public schools both within and beyond their typical outreach radius.

Innovation Academy STEM High School (Alpharetta, GA) - $1,000 was awarded to purchase an RFID system to track honeybee foraging behavior and pollen profiles of European honeybees.

Anastasia Mosquito Control District (St Augustine, FL) - $,2,400 was awarded to develop of a non-chemical larvicidal bioassay module for high school students in St. Johns County.
Regular grants ($501 - $999):
University of Yaoundé (Cameroon, Africa) - $950 was awarded to encourage young academics to become taxonomists specialized in entomology by sampling and describing crickets captured in a field, dissecting male crickets and documenting their male reproductive system, and making an illustrated report presenting the listed species.

Sandwich Stem Academy (Sandwich, MA) - $999 was awarded to enhance the pollinator garden and apple orchard for native pollinators in Massachusetts. Students will have the opportunity to study, record, and share their information on insect biodiversity, and clearly observe their essential role in pollination and plant fertilization. 

University of Florida/IFAS Extension Seminole County (Gainesville, FL) - $930 was awarded to connect 2nd grade classrooms (youth ages 7-8 years old) in Seminole County, Florida with entomology through a four-week, hands-on program that teachers can integrate into their standard curriculum.
Micro grants ($500 and less):
Simpson Elementary School (Franklin, KY) - $250 was awarded to purchase a butterfly hatching kit, an ant observation kit, and materials to create models of insects, and their homes.

Oklahoma State University (Stillwater, OK) - $500 was awarded to fund the Wetland Wizard Bug Project, which uses live arthropods and a portable artificial wetland in hands-on activities to teach STEM topics including Anatomy/Physiology, Animal Behavior, and Wetland Ecology to Oklahoma Title I low-income 4th thru 6th graders.
---
2021 Grants
The 2021 grants from the Chrysalis Fund were announced in September 2021. They include:
Large grants ($1,000 - $2,499):
South Plainfield High School (South Plainfield, NJ) - $2,000 was awarded to allow students, in collaboration with Morehouse College and Emory University, to study gut bacteria through the life cycle, genetics, and culturing of Bean Beetles.

The Watershed Institute (Titusville, NJ) - $2,000 was awarded to support high school programs that focus on understanding entomology and ecosystem health through bioassessment with freshwater aquatic macroinvertebrates through use of entomology and microbiology labs.

New Philadelphia High School (New Philadelphia, OH) - $1,800 was awarded to allow high school students authentic research experiences that examine ecological factors driving the expansion of Blacklegged Tick populations and Borrelia burgdorferi prevalence in Tuscarawas County, Ohio.

University of Nebraska State Museum (Lincoln, NE) - $1,729 was awarded for a "Life in a Dung Pat" Virtual Field Trip (VFT) that will support standards-based learning about how matter moves throughout an ecosystem, as students investigate the role of dung beetles and other insects that depend on dung pats for survival.

Chattaroy Elementary School (Chattaroy, WA) - $1,610 was awarded to help over 100 elementary school students plant and maintain a garden for observation and charting of pollinating insects, to better understand ecosystem relationships.

University of Southern Mississippi (Hattiesburg, MS) - $1,500 was awarded to implement an outreach program that exposes disadvantaged youth to spark interest in STEM subjects and careers using insects and arthropods.
 
Regular grants ($501 - $999):
Chico State Enterprises (Chico, CA) - $999 was awarded to support a hands-on insect project that teaches elementary students the value and importance of protecting insects, while learning through fun and engaging integrated science pedagogies: Inquiry, ecological justice, and citizen science.

Carmen High School of Science and Technology (Milwaukee, WI) - $590 was awarded to allow over 100 eleventh and twelfth grade environmental science students to study environmental health through a hands-on vector (mosquito) surveillance program.
Micro grants ($500 and less):
Illinois State University – Center for Mathematics, Science & Technology (Bloomington, IL) - $490 was awarded to provide the materials necessary to develop a "Dungeons & Dragonflies" program to delve into the world of insects and entomology themed encounters.
---
2020 Grants
The 2020 grants from the Chrysalis Fund were announced in September 2020. They include:
Exceptional grants ($2,500 and over):
Puerto Rico Science, Technology, and Research Trust (San Juan, PR) – $2,500 was awarded to educate students and adults on the life cycle of mosquitoes, including learning modules and kits with ovitraps to combat the dengue outbreak currently in Puerto Rico.
Large grants ($1,000 – $2,499):
San Gabriel Valley Mosquito & Vector Control District (West Covina, CA) – $2,137 was awarded to develop an animated video, "Journey of the Germ," providing a missing piece in the narrative of host-vector-pathogen relationships and explicitly detailing, in a memorable way, why we want to prevent mosquito bites.
Balsam Mountain Trust (Sylva, NC) – $1,600 was awarded to provide more than 1,000 underserved first graders with pollinator education through creation and delivery of novel-standards based science activity kits, focusing on conservation, literacy, and outdoor exploration.
Toms River High School South (Toms River, NJ) – $1,600 was awarded to do the metabarcoding of mosquito microbiomes with high school students in partnership with Vanderbilt University, the NJ Ocean County Mosquito Control, the DNA Learning Center at Cold Spring Harbor, and Shimon Ben-Zvi High School in Givatayim, Israel.
Regular Grants ($501 – $999):
Helen R. Ealy Elementary (Whitehall, MI) – $909 was awarded to conduct a collaborative effort engaging elementary students in current cutting-edge research with scientists who study monarch butterfly ecology and conservation.
Micro Grants ($500 and less):
St. Anthony of Padua School (Falls Church, VA) – $350 was awarded to rear and observe spotted lady beetles and milkweed bugs to help primary students understand the concept of metamorphosis and to help middle school students understand the types of metamorphosis and the role of pollinators in our world.
---
2019 Grants
The inaugural grants from the Chrysalis Fund were announced in August 2019. They were:
Exceptional grants (over $2,500):
No exceptional grants were awarded in 2019.
Large grants ($1,000 – $2,499):
Lafayette Elementary School (Oxford, MS) – $1,400 was awarded to fund a Bug Club for 1st and 2nd grade classrooms that will investigate insect life cycles, introductory taxonomic classification, and more. 
University of Guelph (Guelph, ON, Canada) – $1,000 was awarded to support a documentary film about the importance of entomology. The funds will offset the expenses of the filmmaker as he accompanies a group of 15 students to the Yanayacu Biological Station in Ecuador.
Regular Grants ($501 – $999):
No regular grants were awarded in 2019.
Micro Grants ($500 and less):
Washington Elementary (Junction City, KS) – $500 was awarded to support a K-5 project to educate students on how black soldier flies can turn food waste into compost 
Cross Roads Head Start and PreK (Mobile, AL) – $450 will support a butterfly garden and library at a Head Start program. The funds will offset costs to buy plants, photography equipment, and books
Global Learning Charter School (Visalia, CA) – $450 was awarded to fund a paper microscope project. The funds support students creating usable paper microscopes out of folded paper.
Coolidge Elementary (Norman, OK) – $400 will support a holistic educational approach for a kindergarten class as the educator creates a "Buggy Kindergarten". The funds would be used on insect replicas as well as live arthropods to study.
Campbell County High School (Gillette, WY) $400 was awarded to support three current entomology based projects using phasmids (Diapherodes gigantae and C. morosus) to demonstrate parthenogenesis, incomplete metamorphosis, evolution, and invasive species; and Zophobas morio to measure complete metamorphosis.
BioTECH High School at Richmond Heights (Miami, FL) – $400 was awarded to fund an expansion for an existing IPM program in a school garden. The funds would support construction of new insect housing, introduce more lessons on entomolgy, and help support an IPM guide book for future classrooms.
---
2018 Grants
On August 6, 2018, the Entomological Foundation Board of Directors announced its 2018 grant awardees. Twenty-one applications were received, with requests for a total of $34,538.02. A total of $5,554 was available for award from the general fund and $667 was available from the Young Women in Science fund. The winning grant applications are listed below.
Exceptional grants (over $2,500):
No exceptional grants were awarded in 2018.
Large grants ($1,000 – $2,499):
Northern Arizona University – $1,570 was awarded to fund two projects that support the Adventures in Arthropod Biodiversity program. The grants will fund scholarships for girls ages 6-10 and mentorships for two high school girls, particularly those of Hispanic and/or Native American descent. Funds from the Young Women in Science fund were used to supplement this award.
Milwaukee Public Museum – $1,200 was awarded to help fund the Discovering Milwaukee Fireflies project, which seeks to build science literacy among urban youth through curriculum based on firefly education, including sampling, monitoring, data analysis, and more.
Regular Grants ($501 – $999):
Micro Grants ($500 and less):
4-H Cockroach Program – $465 was awarded to expand an existing middle school program by adding four new colonies. The program uses live insects and hands-on labs to teach STEM topics such as anatomy, physiology, physics, and evolution to young and developing scientists. 
South McKeel Academy – $204 was awarded to a 4th grade analysis of bess beetles. The study will include strength experiments to analyze the beetles' pulling power.
R. Steve Folsom Elementary School – $105 was awarded to fund the purchase of mealworm kits for 4th graders that will engage in observational studies of life cycle changes. The project will also tie in to an economics unit whereby students will create a business plan to develop a mealworm farming business.