The 2023 Eastern Branch officer elections, conducted via electronic ballot, will open January 9, 2023, and close February 8, 2023, at 11:59 p.m. U.S. Eastern Time. 
To see candidates, click to expand the categories below:
President-Elect
Eastern Branch President-Elect
Karly Regan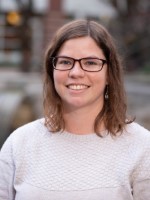 Penn State University
Bio: Dr. Karly Regan is an extension educator at Penn State serving commercial vegetable, berry, and cut flower producers in south central Pennsylvania. She completed a B.S. in Biology at the University of Massachusetts, an M.S. in Plant Science at South Dakota State University, and a Ph.D. degree in Entomology at Penn State. After graduating from Penn State, she worked as a postdoctoral researcher at Cornell University in Geneva, NY. Her research experience has included the impact of drought stress, soil health practices, and nutrient management on pest management in agriculture, as well as improving integrated pest management programs for field and vegetable crops. In addition to research and extension, she has been involved with ESA throughout her career and currently serves as the early career representative on the Eastern Branch Executive Committee.
Past ESA activity or other volunteer service: Dr. Regan has been an active member of ESA since 2013 and a member of the Eastern Branch since 2015. She currently serves as the Early Career Representative to the Eastern Branch Executive Committee. Alongside presenting, she has also participated in national and branch meetings by organizing symposia, organizing workshops, and serving as moderator and judge for student competitions. She has previously served on the P-IE awards committee and the DEI Focus Group for the P-IE section and regularly serves as a reviewer for ESA journals. In addition to ESA, she volunteers as a member of the National Science Policy Network and the Pennsylvania Association of County Agriculture Agents.
Candidate statement: I have had the honor of serving on the Eastern Branch Executive Committee as ECP Rep under Presidents Lamp and Kennedy during this transition time of redefining the role of branches within ESA. Their efforts to launch EntoQuest, museum tours, and an educational webinar series have helped establish a stronger future for Eastern Branch. If elected, I would work to increase recruitment to our planning committees for these new activities to ensure they continue to thrive and that Eastern Branch continues to serve as a model for how much a branch can provide to members beyond our annual branch meeting. I will also welcome feedback from our members on other new ideas we can launch to better serve the needs of our branch and support the important activities of our branch committees including the DEI committee and ECP committee to support retention of membership within the branch at all career stages.
Early Career Professional Representative to the Executive Committee
Eastern Branch Early Career Professional Representative to the Executive Committee
Abigail Hayes 

University of Connecticut
Bio: Doctor Abigail Hayes, better known in some circles as Arthropod Abbey, is an NSF postdoctoral research fellow at the University of Connecticut (UConn) where they are working on the genetic underpinnings of wing evolution with Dr. Elizabeth Jockusch. They completed their Ph.D. in Entomology in 2021 at Washington State University (WSU) with Dr. Laura Lavine. Dr. Hayes' broader research interests lie at the intersection of evolution, development and local adaptation of arthropod phenotypes. Dr. Hayes has not only developed a competitively funded research program on phenotypic evolution, they also have led a disproportionately large selection of advocacy work in their relatively short career – on behalf of arthropods, the climate and human beings.
Past ESA activity or other volunteer service: Dr. Hayes has been heavily involved in both regional and national ESA events: as a participant and eventual judge of student debates, as a competitor and organizer of elevator talks, and as co-captain of an Entomology Games Team. They have given multiple invited talks, organized several symposia, presented posters and more despite the pandemic spanning a large portion of their relatively short career. Dr. Hayes has tirelessly advocated for insects both as the outreach coordinator and curator of a bug zoo during their Ph.D. and in their current postdoctoral position. Dr. Hayes is equally as passionate about arthropod advocacy as they are social justice- serving as postdoctoral representative on DEI committees and in faculty meetings, facilitating and organizing the Queer Science conference at UConn and founding a postdoctoral society.
Candidate statement: I am fresh from the Pacific Branch and come with a plethora of ideas to build Early Career Professional (ECP) community and resources. Not only do I come with ideas, I come with a proven track record of advocating for ECPs. I already have experience meeting with administrative bodies on behalf of ECPs in my current role as founder and president of a postdoctoral society at UConn, resulting in the creation of a resource center. Some initiatives I would like to see through as the Eastern Branch's ECP representative include creating ECP recognition symposia at the branch meetings, increasing networking opportunities both virtually and in person, and advocating for more funding aimed at ECPs. I value transparency and inclusivity - as the Eastern Branch ECP representative I would hold monthly virtual meetings for the Eastern Branch ECPs to make sure I hear and see everyone's concern
 Niranjana Krishnan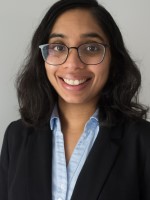 University of Maryland, College Park
Bio: Starting January 2023, Niranjana Krishnan will be an assistant professor in the entomology department at University of Maryland, College Park. She will also be serving as Maryland's Pesticide Safety Education Program Coordinator. She is currently an assistant research professor at Missouri University of Science and Technology. Her expertise is in insect toxicology and risk assessment. In 2021, she received her PhD from the entomology department at Iowa State University, where she studied how pesticides impact monarch butterfly conservation. Niranjana's research has been employed by the U.S. Fish and Wildlife Service in monarch species status assessment and by the U.S. Environmental Protection Agency in pesticide risk assessments. She recently received a U.S. Department of Agriculture grant to study how neonicotinoids disrupt ecdysis in multiple insect orders.
Past ESA activity or other volunteer service: Niranjana has been a member of ESA since 2017. She has attended multiple branch and national ESA meetings and has presented posters and given talks, including invited talks, at these meetings. She has organized and chaired a symposium, served as a symposium moderator, and co-hosted an ESA early career webinar. Additionally, at the North Central Branch, she was a member of the Early Career Committee and was the student representative from her university. Outside of ESA, Niranjana is involved in Society of Environmental Toxicology and Chemistry (SETAC), where she is a currently a subcommittee Chair for the Inclusive Diversity Committee and is a liaison to the Indigenous Group. She is also an editorial board member for one of SETAC's journals and has chaired symposiums and judged presentations at national meetings. She had served in the Student Affairs Committee for three years.
Candidate statement: I am interested in the position for several reasons. 1. Early career scientists face many challenges while juggling multiple responsibilities. As I will be starting a tenure track job with research, extension, and teaching responsibilities, I can effectively communicate the needs and challenges of many early career scientists. 2. I will also serve as a mentor/advisor to other early career scientists, including PhD students and post docs. Thus, I can also communicate the needs and challenges of younger early career scientists. 3. Studies have shown that women and people of color are less likely to retain memberships in professional societies over time. As a woman of color, I would like to bring forth issues faced by these groups to ensure ESA can address them effectively. Overall, I hope to help ESA become a more welcoming, supportive, inclusive, and equitable society.
Bio: Hannah Tiffin is a postdoctoral research entomologist at USDA ARS, investigating tick control and tick-host behavior. She recently completed her PhD in Entomology and International Agriculture & Development at Penn State University, investigating sarcoptic mange and ticks on wildlife species, thus altering state and regional mange management decisions in black bear populations. She earned a MS in Environmental Toxicology from Texas Tech in the Vector-Borne Zoonoses and Bioterrorism Response Labs, fueling her interest in zoonotic and vector-borne disease research at the intersection of human and wildlife health. After earning a BS in Geography and Biology at Shippensburg University, she enjoyed work as a GIS Specialist at PA DCNR. Hannah is passionate about accessible science- engaging with the public through Extension talks, "Science on Tap" and community science.
Past ESA activity or other volunteer service: Committed to science communication, Hannah continues to serve in roles that "bridge the gap" between scientists and the public. She has contributed scientific articles to American Entomologist on engagement with the public and training undergraduates. Serving as a judge for grade-school Science Fairs and graduate student research competitions have been one of the highlights of her professional service. While relatively new to ESA, Hannah has been an active member since 2018. After co-organizing an Eastern Branch ESA symposium in 2021, she knew she wanted to become more involved in ESA leadership roles. Having served in several leadership roles within graduate student organizations at Texas Tech and Penn State, and as Chair and Chair-Elect of the American Chemical Society South Plains Texas Chapter, she has experience leading and listening to achieve group goals.
Candidate statement: The transition between graduate studies and establishing a career as entomology professionals can be a challenging and uprooting time for many early career professionals. I am committed to advocating for the next generation of leaders in ESA. As the Eastern Branch Early Career Professional Representative to the Executive Committee, I would ensure the diverse ECP interests and needs are identified through discussions with ECP members and accurately represented to leadership. In this position, I would contribute my skills in science communication and engagement to establish accessible resources and a strong support network for ECP members. I truly enjoy celebrating and promoting the successes of others and believe a strong support network comprised of diverse voices and career paths is necessary to collectively realize our greatest strengths.
Member-at-Large
Eastern Branch Member-at-Large
Christian A. Borre

Select Exterminating
Bio: Christian brings more than 30 years of experience to pest control. He has served in several positions including technician, sales, and service manager. He is a licensed applicator in NJ, NY, and Supervisory license in CT. Christian attained ACE accreditation in 2006,
approved as a NYDEC Instructor in 2022, and holds close to 20 credentials in pest control and safety. In his current role with Select, Christian implements in-house training, oversees field training, authors protocols, and supports Select Exterminating employees to enhance the overall education, quality of services provided while ensuring the company is within State regulations.
Past ESA activity or other volunteer service: Though Christian Borre hasn't worked specifically as a volunteer with ESA, he has volunteered as a pest control representative at numerous trade show events centered around and for the pest control industry since 1998, as well as elementary school functions and career day school events.
Recently, Christian has applied for a 2-year volunteer Executive Leadership program sponsored by the National Pest Management Association.  
Lastly, Christian has developed an online game show formatted specifically for grade schoolers in an effort to educate youngsters which he hopes to complete and launch sometime in 2023.
Candidate statement: I've been involved in the pest management industry since 1989, joined ESA in 2004, became an ACE in 2007, and have done my best to represent the organization and the industry to the best of my ability.  My vision is to inspire others with a similar cultural background by mentoring, coaching, and providing guidance by introducing areas and fields of entomology available to those who I feel are underrepresented particularly in the higher echelons of the pest control industry.  I feel that the mere presence of someone like myself in "any" kind of role with the ESA would prompt others to seek out advice in getting involved in an industry I've loved for more than 30 years.
Bio: Daniel obtained his Ph.D in Entomology from Virginia Tech, an M.S. in Entomology from the University of Florida, and a B.S. in Biology from Utah State University. He currently serves as Director of Pesticide Programs within the Department of Entomology at Virginia Tech. In his role, he serves as both IPM and pesticide safety education program coordinator. Before becoming Director of Virginia Tech Pesticide Programs, he was an Extension Specialist and Associate Professor of Entomology at West Virginia University. In 2019, Daniel was named Outstanding Recent Graduate Alumnus of Virginia Tech's College of Agriculture and Life Sciences, and was the recipient of the ESA Eastern Branch Herbert T. Streu Meritorious Service Award.
Past ESA activity or other volunteer service: Daniel has been an ESA member for 21 years and an Eastern Branch member for 16 years. He served as Secretary on the Eastern Branch Executive Committee from 2013-2022. Daniel has volunteered his time and expertise in various roles with other scientific and professional organizations including the American Association of Pesticide Safety Educators, IR-4, Southern IPM Center, Southern Region Information Exchange Group for IPM (SERA3), National Pesticide Safety Education Center, and Virginia Master Gardener Association.
Candidate statement: As a long-serving member of ESA, I would be delighted to be considered for the Eastern Branch Member-at-Large position. My attendance at numerous Branch meetings, service on the Executive Committee, and interest in the organization would serve me well when acting as a liaison between the Executive Committee and Branch membership.  With the initiation of ESA's Branch Evolution Project, I am interested in helping the Eastern Branch strategically plan for its future. A topic of particular interest for me includes consideration of a new membership section (Formal and Informal Teaching) for education professionals within the organization.