Congratulations and welcome to the incoming officers of the Pacific Branch! 
President-Elect
Pacific Branch President-Elect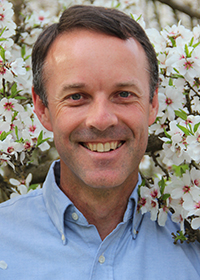 David Haviland
University of California Cooperative Extension
Bio: David Haviland currently serves as the University of California Cooperative Extension entomology advisor for the southern San Joaquin Valley. His primary responsibilities are to conduct research and extension programs that lead to the adoption of integrated pest management practices by farmers that produce more than $17 billion in agricultural commodities annually in the region. He has been employed in this position for approximately 20 years since earning his M.S. Degree in Plant Protection and Pest Management from UC Davis. In addition to his primary role as a county-based advisor, David is also formally associated with the UC Statewide Integrated Pest Management Program. Advisor Haviland's primary responsibilities are to conduct research and extension programs that lead to the adoption of integrated pest management practices. The focus of his research has been on invasive pests such as glassy-winged sharpshooter, vine mealybug, spotted wing drosophila, and Gill's mealybug, with the remainder focused on native or established pests such as navel orangeworm, spider mites, and thrips. He has produced more than 400 publications, including 29 peer-reviewed journal articles and another 44 peer-reviewed publications through the University of California. These publications span a wide range of topics that include pest phenology, monitoring, cultural controls, biological control, and various forms of chemical control, such as traditional pesticides, biopesticides, entomopathogens, and mating disruption. David is an accomplished extension entomologist that has given more than 800 invited presentations to primarily farmer and pest control advisor audiences. Included within this number are 61 presentations to scientific audiences through professional societies such as the ESA. David has given keynote addresses on topics related to his research and extension experiences at conferences in Oregon, Michigan, California, New Jersey, Switzerland, Brazil, Peru, Chile, Australia, and Italy. The successes within David's career have led to a significant level of recognition through individual awards as well as for his role within team efforts. David has received research, extension, or teamwork awards from the PBESA, national ESA, California Department of Pesticide Regulation, UC Division of Agriculture and Natural Resources, the Western Extension Director's Association, Association of Applied IPM Ecologists, and International Integrated Pest Management Symposium
Past ESA activity or other volunteer service: David Haviland has been an active member of the ESA for more than two decades. He has served as Chair of the Operations, Technology, Registration, or Award Selection Committees for 10 different branch presidents. He also spent two years as the branch archivist and served as Co-chair of the Local Arrangements Committee for the national ESA meeting in Salt Lake City. David has been an organizer or speaker in nine symposia at national or branch-level meetings and routinely participates in voluntary activities such as judging student competitions. David is a past recipient of the PBESA Distinguish Achievement Award for Extension, PBESA Team Work Award, and national-level ESA Integrated Pest Management Team Award. Since 2016 he has served as a Subject Editor for section D (citrus, nut, and stone fruit) manuscripts submitted to ESA's journal Arthropod Management Tests. David also has significant leadership experience within other local and state-level organizations. Most significantly, David spent five years serving as a board member, president-elect, president, or past president of the Association of Applied IPM Ecologists. At the conclusion of his service, he was honored through a Director's Commendation for his service and was voted to be the organization's 2019 Member of the Year.
Candidate statement: Candidate Haviland has been a life-long advocate for entomology. He views the Entomological Society of America as the premier organization for advancing entomological sciences internally within the academic community and externally to all members of society. Regardless of whether an entomologist is using insects to cure cancer, helping a farmer establish biological control, or providing counsel to a housing manager trying to combat bed bugs, the call to service is the same. David recognizes the many key roles ESA has played in his personal life to give him professional opportunities as a student, become established as an early career professional, build regional networks of entomological colleagues, and develop professional competence. During his service as President-elect and then as President, David will dedicate his time and leadership skills to giving back to the organization that has been so influential in his career, while striving to inspire others to do the same.
Member-at-Large
Pacific Branch Member-at-Large
Bio: I received my B.S. from the University of Chicago in 1990, and my Ph.D. from Boston University in 2001. I conducted post-doctoral work at North Carolina State University and Arizona State University, then joined the USDA-ARS as a research entomologist in 2007. I have been acting as the Research Leader for my unit since 2016. My research has focused on mechanisms regulating development and reproduction in a variety of insects, with a particular interest in Lygus bugs. I have authored or co-authored 69 peer-reviewed journal articles, six protocol papers, and 2 book chapters. I received the Physiology, Biochemistry, and Toxicology Award from the Pacific Branch in 2016.
Past ESA activity or other volunteer service: I have been a member of ESA since 1997 and have presented at almost every national ESA conference since then. I organized or co-organized five ESA symposia and am currently preparing another for 2022. I have also participated in the meetings of three different branches. I served as a volunteer judge and moderator on numerous occasions and have been an editor for ESA's Environmental Entomology since 2011. I have also served on the editorial board for the Archives of Insect Biochemistry and Physiology since 2016 and was the past Secretary, Treasurer, and President of the North American Section of the International Union for the Study of Social Insects. I am also currently on the executive board for a non-profit organization supporting artists and artistic organizations.
Candidate statement: I would like to become more involved with the activities of the Pacific Branch and have found that the best way to do so is by throwing myself into such an endeavor. I also view it as an opportunity to become better acquainted with the regional entomologists that might otherwise be outside my field of expertise. I feel I have a breadth of practical experience from working with similar institutional structures that will allow me to make a substantive contribution. I am industrious, organized, respectful, and work well with others. My intent is to ensure that the Pacific Branch continues to thrive.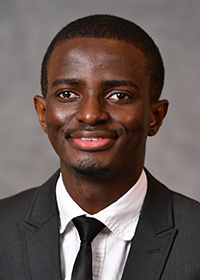 Stephen Onayemi
Washington State University
Bio: I am currently a Ph.D. student studying entomology at Washington State University. I completed my master's in entomology from the same school. I wish to volunteer in the Entomological Society of America (ESA) member-at-large position at the Pacific Branch. My passion for assisting fellow student members comes from my past experiences serving in various capacities as a student. I believe in giving back to society through selfless service and learning leadership qualities by taking responsibility.
Past ESA activity or other volunteer service: I currently serve as the International Branch representative for the Entomology Games, a volunteer with the International Office of Washington State University as a Peer Mentor, and a member of Toastmasters International. From my past and recent volunteering experience, I have learned teamwork and communication effectively with fellow students. I have also engaged in community service, been exposed to group dynamics, and developed a passion for helping identify and meet students' needs. I would also love to contribute my quota to the Entomological Society of America's development by planning leadership programs and mentorship platforms with other committee members.
Candidate statement: I am the pioneer of an international students' webinar that brings successful speakers that have passed through graduate school and are currently in academia, industry, or government institution. Over 100 students from different universities in the US, UK, and Europe register for this webinar, with an average of 30 attendees monthly. I believe that my mentoring, effective feedback, creativity, innovation, and team development skills will help the Pacific Branch ESA achieve all its goals for all the Entomological Society of America members. Joining the committee will challenge me to expand my horizon, boost my impart and increase my network.